Space Junque by LK Rigel
- sci-fi, romance -
reviewed by Tara SG
received for review from author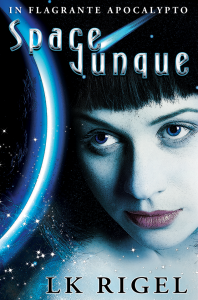 Book Order (Afterworld)
Space Junque (novella) * * * *

Spiderwork (novella – Dec 2010)
Blue Amber (extended prequel)
Bleeder (Jan 2011)
Links
Author's Website : www.lkrigel.com
Amazon : eBook ($0.99)
Smashwords : eBook ($0.99)
Add To Your GoodReads TBR List
This book in 6 words:
extremely intelligent and romantic space adventure
Why did I read this? And am I glad I did?
I was contacted by the author and I'll admit that I wasn't sure about the book based on the title. I thought it was going to be a not so great erotic space novella… I was way wrong (and think I need to get my head out of the gutter). I'm extremely glad I gave this one a chance! In the beginning I was a little weighed down by all the information. However, after the first chapter I felt like I had a decent grasp on this new world and was sucked into the story. It almost had a Firefly feel to it (maybe with less jokes). The ending is a tad abrupt, but considering it is a novella/prequel I wasn't really surprised or disappointed by it (specially now that I know that I'll get to see the characters again next month).
I was immensely impressed with the ancient mythology references and the world-building. I'm definitely picking up the rest of the series.
Brief Summary
Char Meadowlark accepts an invitation to visit the Imperial Space Station from Mike Augustine, her dead sister's fiancé. While she's in orbit eco-terrorists start a planet-wide war.

Stranded above the earth, Char and Mike are thrown together. He wants more from her than friendship, but she can't stop thinking about Jake, the man who saved her life.

Jake Ardri is the bastard son of the Emperor's favorite courtesan. He hates politics and keeps to himself, running the rich and powerful to off-planet vacations in his shuttle, the Space Junque. When Mike Augustine asks for yet another favor, Jake thinks nothing of it — just see that Mike's friend gets off planet safely. Jake doesn't expect to fall so hard and fast for the privileged "blue-carder" he finds in his Junque.

But is love even possible in flagrante apocalypto?

- via GoodReads.com
Plot/Pacing/Writing Style
The idea that the recent Gulf spill will lead to the world built in this prequel is quite frankly terrifying. It's been awhile since I've read anything set in the future or in space, so I found the setting to be extremely interesting. I loved the politics and action. I did not anticipate it having the connections to ancient religion that it did, and I loved how it played into the story.
I still have a lot of questions about the future of our characters. I also really hope to learn more about what the mutants/ghosts are and how they came to be (but I'm a science nerd and like to have a ton of explanation that most people don't care about).
Characters
First can I mention how much I love our main character and her twin's names! Char is smart (a hydroponics agronomist) and sad. Her world isn't one full of joy and she's lost a lot of loved ones recently. I loved seeing her come alive through the romance and action.
Jake is pretty fantastic himself. He is intelligent, brave, and sexy. I loved his interactions with Char and their banter. He is caught in a political storm that he can't avoid as much as he'd like to. I'm really hoping to learn more about him (and his mother) in the future.
Durga was an unexpected, pleasant surprise. I'm extremely excited that we'll get to know more about her in Spiderwork.
Favorite Quotes
"We were natural born. Our mother never wanted children. She named us after monsters to get back at our father for impregnating her."

- Char talking about how her and her twin received the names Charybdis and Scylla
Recommendations
If you like sci-fi with political intrigue and action (with a touch of romance), then you should really pick this up. I would say it was fairly PG-13, so don't use it for a hot read.